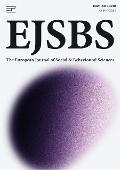 The European Journal of Social & Behavioural Sciences
Online ISSN: 2301-2218
European Publisher
THE EUROPEAN JOURNAL OF SOCIAL & BEHAVIOURAL SCIENCES (EJSBS) is an open access, peer-reviewed journal published by European Publisher.
It is published three times a year (in January, April and August), excluding occasional special issues. The main objective of the EJSBS is to provide a platform for international scholars to showcase and disseminate work in their area of expertise within the scope of social and behavioural sciences. The EJSBS aims to become the journal of choice in reporting cutting edge interdisciplinary studies in social and behavioural sciences that can significantly contribute to the betterment of society based on sound internationally acknowledged scientific research.
Since its establishment, the EJSBS has been successful in attracting a wide range of international contributions to the field and in doing so, is rapidly becoming a sought-after journal to publish scholarly work in this area.

The scope of the journal includes, but is not limited to
Educational Studies

Literacy Studies

Leadership and Management Studies

Media and Communication Studies

Political Sciences and Public Policy

Population Studies

Music Studies

Religious Studies

Public Health

Sociology

Historical and Civilizational Studies
and other fields of study with a focus on social and behavioural outcomes. 
Papers are accepted based on alignment to the journal's scope of coverage, novel contributions to the field, and robustness of the investigative process presented in a clear, concise and well-organized format.
The EJSBS publishes original papers, review papers, conceptual frameworks, analytical and simulation models, case studies, empirical research, technical notes, and book reviews.

Special Issues devoted to important topics or topics of current international interest in social and behavioural sciences will occasionally be published.