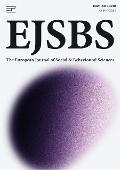 The European Journal of Social & Behavioural Sciences
Online ISSN: 2301-2218
European Publisher
CALL FOR REVIEWERS
The European Journal of Social and Behavioural Sciences
EjSBS Managing Editor is calling for reviewers to assist with the peer review process for the upcoming issues of EJSBS. 

Since its establishment, the EJSBS has been successful in attracting a wide range of international contributions to the field and in doing so, is rapidly becoming a sought-after journal to publish scholarly work in this area. 


The journal publishes theoretical and empirical articles that:


contribute to a greater understanding and development of social and behavioural sciences
examine the extent and nature of human behavior in the social environment 

We are looking for academics with the right expertise and credentials who share our passion to create more avenues for researchers and other stakeholders in this area of research to create and disseminate their work in this field.
Online ISSN: 2301-2218
Open Access
Copyright © 2014-2023 European Publisher. All rights reserved. 
DOI: 10.15405/ejsbs(2301-2218)
Editor-in-Chief Ahmet Guneyli, Professor Dr., Lefke European University, Cyprus 
lno106@psu.edu   
Guidelines for Prospective Reviewers
BENEFITS
Wider exposure to the international academic field in your area
Enhanced research profile through EP's collaboration with prestigious scholarly publications
More opportunities to stimulate and contribute to the latest research in your area 
More opportunities to establish networks with fellow academics in your area
Reference letter will be provided confirming editorial collaboration with European Publisher
For each completed peer review, reviewers are eligible for a free publication opportunity in the EjSBS journal
RESPONSIBILITIES
Assist in evaluating and assessing publication content for compliance with the EP Ethical Policy and quality standards
Establish and maintain high standards of quality in publication content 
REQUIRED QUALIFICATIONS
Doctorate and/or extensive experience in their field
Excellent written communication skills in English
Strong publication record in Social and Behavioural Sciences 
Strong critical assessment abilities
Interested in becoming a reviewer?